If you are using the HTML5 client for launching Cloudalize desktop and want to copy and paste text between Desktop (will further refer as session) and your local machine (will further refer as device), please follow the procedure described below:
1. select the text
2. press CTRL+C (or ⌘+C for mac) from your keyboard than go to the HTML5 client and choose "Open clipboard" option:



3. A window will pop-up and you will see the text you have copied into session clipboard selected. You have to press again the CTRL+C/⌘+C keys (or right click and choose "Copy") and the message "Copied to device clipboard" will appear (which means the text has been transferred between session clipboard and device clipboard):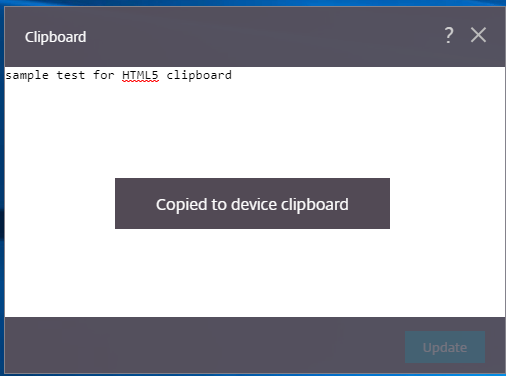 4. Paste on your local machine (device)
Note: if you want to make adjustment on the text, just start typing in the window from step 3 and hit Update button, then press the CTRL+C/⌘+C keys so text will be transferred.
If you are using Citrix Workspace/Receiver application, clipboard is working as usually (CTRL+C/⌘+C -> CTRL+V/⌘+V) and you don't need to use the "Open clipboard"-feature in the top menu.