Welcome to Cloudalize. This article will explain which features can be found where.
Depending on your user credentials and your subscription type, you might see less items in the Dashboard. It gives you a quick overview of all resources available. (Available to admins.)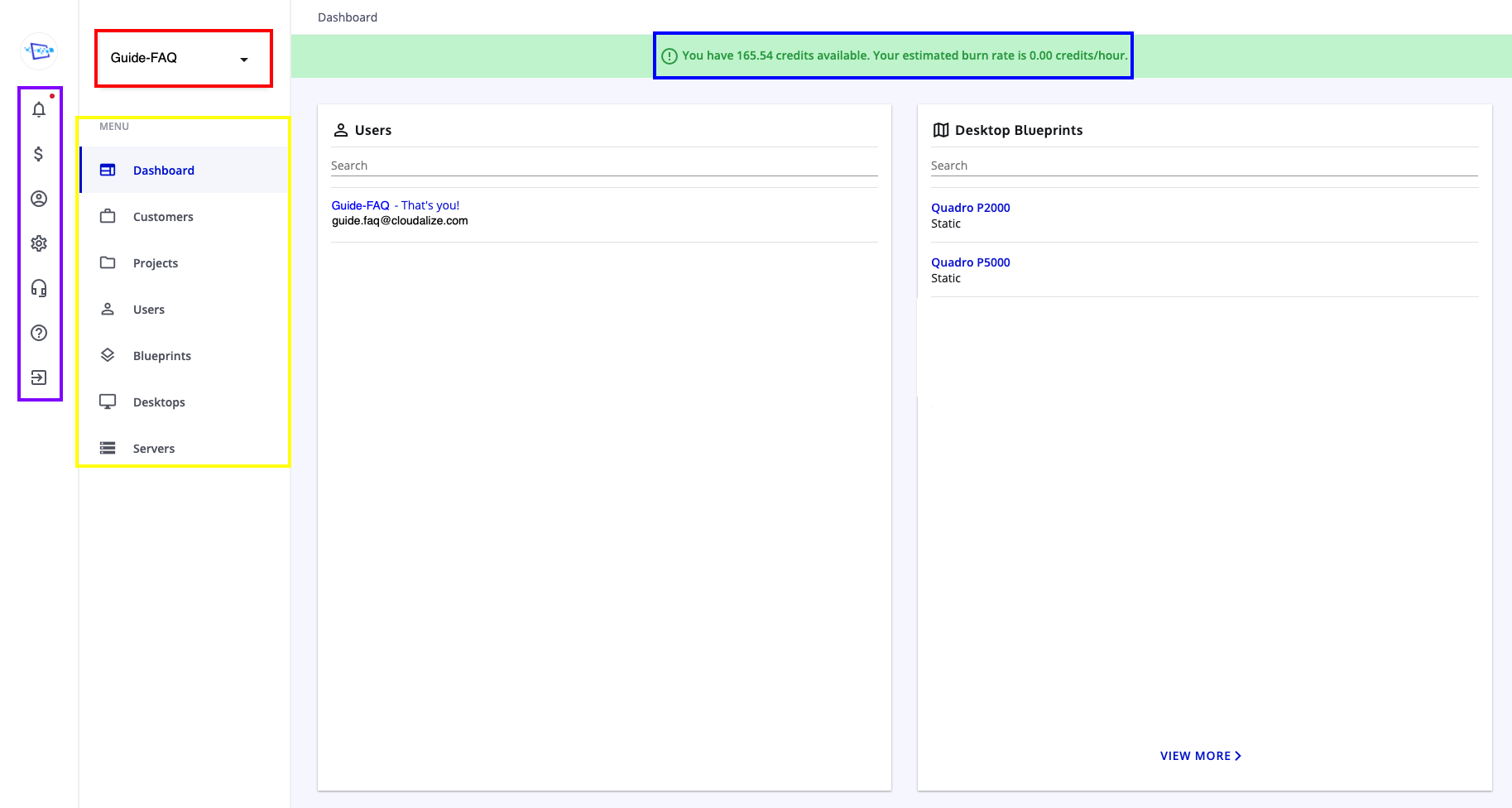 The main parts are:
Navigation bar (yellow)

: In the yellow selection, you'll find menu items to our main features. Click on the item below to read more detailed FAQ items.
Burn rate (blue): A quick overview on how many credits are still available and how many you are using. The hourly usage is an estimate based on 2 days of use. From here you can click through to the billing details. (Available to admins)
Profile settings(purple): From here you can change personal profile settings. Besides the profile settings you can see the most important notifications here, as well as a link to our FAQ and support if you weren't able to find the answer to your question in our FAQ. Also Account settings like billing, default settings for your tenant, ... can be found here. (Available to admins)

Notifications: You can see the most important notifications here.
Billing: Here you'll be able to change the billing settings (VAT number, billing email, subscription plan, payment methods, billing address) , add credits, but also view your billing cycle details and your billing history.
Profile: From here you can change your profile image, change your connection preference and the portal language. Also the security settings can be adapted here and adding SSH Keys.
Settings: You can personalize the portal from here.
Support: Will send you to our Support page, where you can send a ticket to our Support team, who will help you the best possible way.
FAQ: You'll be sended to our FAQ page.
Logout: Will sign you off from the portal.

Search bar (red): If you are a partner and have multiple customers on the platform you can navigate to their environment with the search bar at the top left.